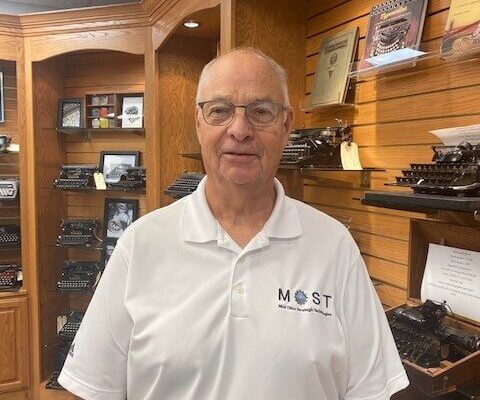 Background
John "Chief" Hoskinson founded Mid-Ohio Business Machines 39 years ago as a typewriter repair company. After Learning the trade in High School at Worthington High School in 1968 and working for a couple organizations in the typewriter repair field, he decided to branch out on his own and start an organization that was focused on taking care of the client and truly delivers on the promise of "doing what's right".
Chief is now semi-retired but still plays an active role in consulting with Mid-Ohio when it comes to business development opportunities.
In his spare time, John enjoys spending time with family and 4 grandchildren and has developed a knack for woodworking.
Tenure at MOST
From day 1 in October 1979
Favorite thing about MOST
People, employees & their families as part of the MOST family. We care for each other, sharing in success and helping through their struggles. Also getting to know our customer and helping solve their problems to make their businesses run smoother and more efficient.
The opportunity to give back to the community and paying it forward.
Accomplishments
The opportunity to start and grow MOST to where we are today. Helping my childern earn their college degrees, the first of my family to do so, and baptizing 2 of my grandchildren.
Interest outside of work
Time with the love of my life, Karen. Time with my grandchildren & family. Working on woodworking projects with my grandkids.