Columbus Managed Print Services (MPS): Take Control of Your Office Printing Process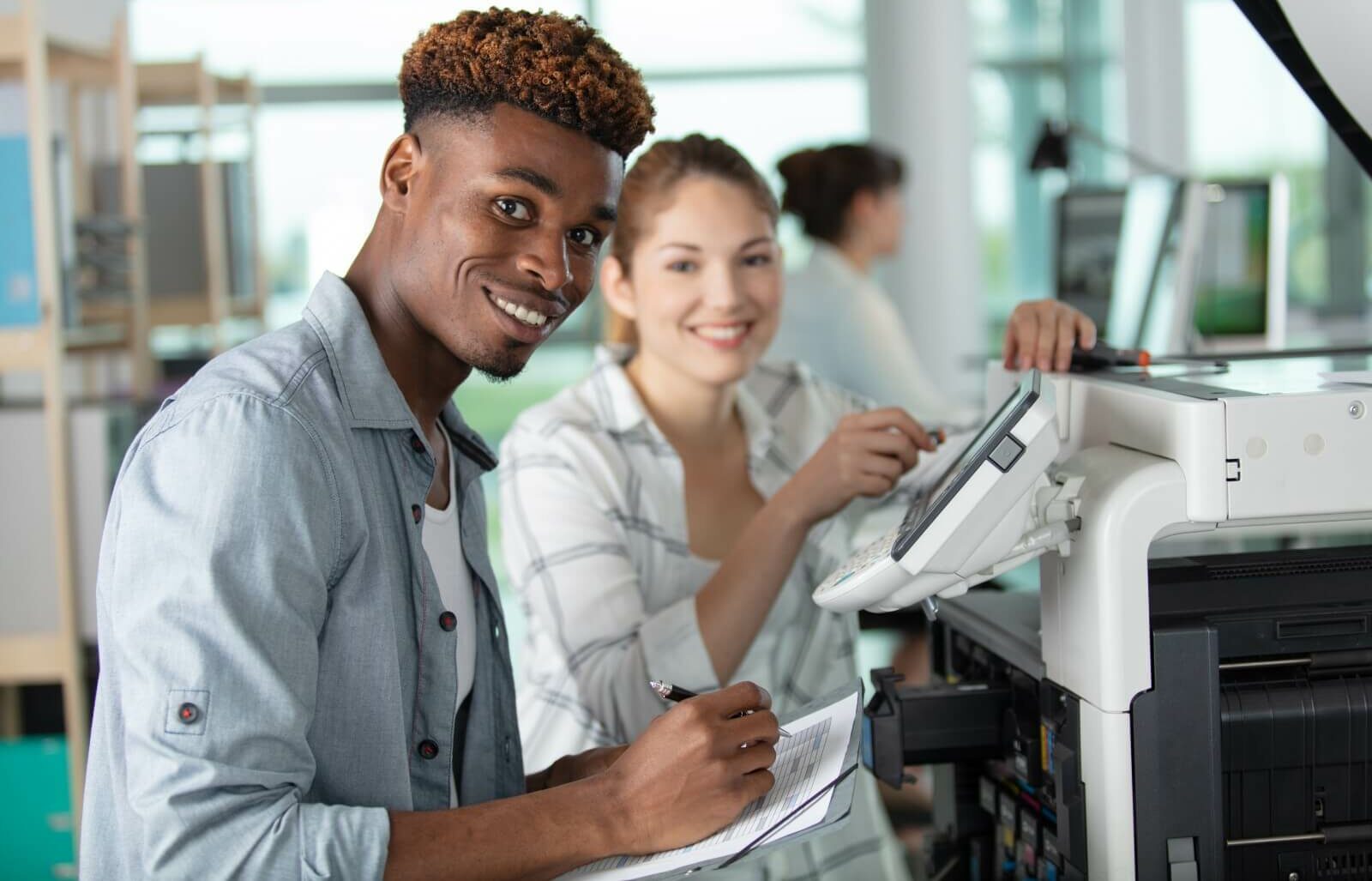 Printing can be a tedious and time-consuming process in just about any office. That's where Mid Ohio Strategic Technologies' managed print services come in.
With our managed print services, we can streamline your entire office printing process, from start to finish. We'll take care of everything for you, from printer maintenance and repairs to ordering new toner cartridges.
Contact us today to learn more about our managed print services.
What are Managed Print Services?
Managed print services (MPS) is an all-inclusive service that helps businesses streamline their printing processes. MPS providers, like Mid Ohio Strategic Technologies, take on the burden of managing and maintaining your office printers, so you can focus on running your business.
What are the Benefits of Managed Print Services?
There are many benefits that come with managed print services, such as:
Increase Productivity, Efficiency, and Print Output
Perhaps the most obvious benefit is increased efficiency. With MPS, you can say goodbye to wasted time and resources spent on managing your office printers.
Save More Money While Eliminating Waste of Resources and Printer Supplies
Another big benefit of a managed print service program is cost savings. 
When you outsource your printing needs to an MPS provider, you can eliminate many of the hidden print costs that come with office and industrial printers, such as supply costs (like paper and toner) and repair and maintenance.
Target Source of Breaches with Print Security, Protection, and Analytics
Managed print services can also help you improve the security of your printing process. 
With printer management software, you can implement print job tracking, user behavior monitoring, device usage, and auditing to keep tabs on who is printing what, when, and where on every printer.
This information can be immensely valuable in the event of a data breach or other security incident. It also can help you identify opportunities to cut costs and waste across departments.
Are Managed Print Services Worth It?
Managed print services can be a great investment for organizations of all sizes, especially for those that rely heavily on printing. 
Not only can print management help you improve your productivity and efficiency, but it can also save you time and money in the long run.
Contact Mid Ohio Strategic Technologies to learn more about our MPS programs.
Why Choose Mid Ohio Strategic Technologies as Your Managed Printing Solutions Provider?
A Local Managed Print Company
While large companies like Xerox and HP offer print management services, those services are outsourced through a third-party company, many of which are located outside of the United States.
These external providers are likely working with a massive network of other businesses and organizations — not on a nationwide scale but on a global scale. 
With a massive client base, many of these providers don't track their clients. They cannot get to know each and every client they manage, their clients' business printing needs, let alone their printing environment.
This means if there are any problems with your printer or print fleet, you may not be able to get the assistance you need right away. It could take days if not weeks to fix your company's printer(s). 
This can lead to an interruption in workflow, costly losses, and unnecessary downtime as your employees wait for outsourced help to arrive.
As a local business, Mid Ohio Strategic Technologies is able to work with your organization in-person. We are located in Columbus, Ohio, and can send out our in-house service providers to manage your organization's printing equipment.
This allows for quick, effective fixes with minimal wait time, saving your business time and money.
We have even optimized the process so clients can request services directly from our website's client portal.
Wide Variety of Printers and Multifunction Devices
Businesses with entire printer fleets may be stuck if they use, for example, HP MPS. Because their MPS provider is also a specific vendor, that business may not be able to work with other brands or vendors.
This can be a major problem depending on the type of business, the number of departments and what each department does, and output and usage.
Rather than consolidate printers into a fleet that uses a single printer brand, work with a company that offers several different brands.
We currently offer managed print services solutions for the following printer, copier, and MFD brands:
Sharp

Toshiba

Lexmark

Kyocera
Although we do not have contracts with these brands, we have serviced clients that use:
Canon

HP

Xerox

Konica Minolta

Lanier

Brother

Savin
You can read more about the printer brands and products we service or contact us to request more information about fleet management.
Ease Your Workload and Focus More On Core Business Needs
Our managed print services can help your business improve productivity, save money while eliminating waste, and identify more opportunities for optimizations — all while freeing up your time to focus on running your business.
Our Managed Print Services Company is Ready to Take on Your Printing Challenges
Are you interested in letting someone else manage your business printing needs?
With over 100 years of combined experience, Mid Ohio Strategic Technologies is easily one of the best—if not the best in Columbus, Ohio—managed print service providers you can find.
Contact us today for more information about our managed printer solutions.