Tim Routzahn
Senior Sales Consultant
Customer Story
"Tim and Jake have been great to work with and have kept us informed from the time we decided to partner with MOST to the final sign off of the install"
Steve V.
Customer Story
"Tim is great, 100% always helpful and professional and we appreciate our partnership"
Molly M.
E-merge Real Estate
Customer Story
"Tim and Allen went above and beyond in helping us to get set up with technology with our new office. They were amazing!"
Tamara L.
Seneca Crawford Area Transportation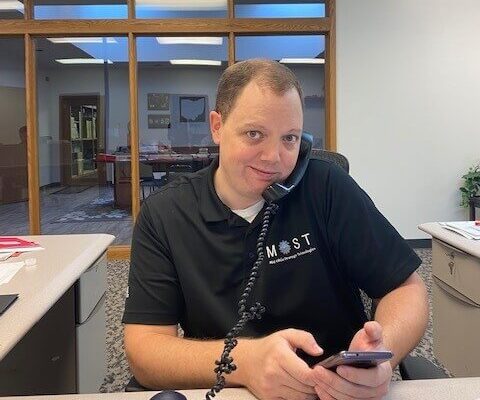 Background
I started working at MOST 11 years ago after graduating from Hillsdale College in Michigan. I started covering the Bucyrus/Marion area since Bucyrus is my hometown. After several years of success, I was given a larger territory stretching from Lancaster Ohio to Tiffin and everything on the East side. Since then, I have worked with businesses ranging from 1 employee all the way to fortune 500 companies covering a wide range of sectors from non-profits, education, Government, and others.
Tenure at MOST
11 years with MOST so far.
Favorite thing about MOST
I believe that MOST is a great place to work, not only due to the fact that we work as a team but also the work life balance. I enjoy the freedom to work with my clients on a one on one basis all while knowing when the work hours are done I will be able to enjoy the evening with my wife Sarah and our two boys Will and Henry.
Accomplishments
I am most proud of adding products to our offerings (barcode printers and software) as well as my current customers being so satisfied with our service and equipment that they often refer us to other businesses and potential clients.
Interest outside of work
I enjoy being outside camping, hiking, shooting sporting clays as well as cooking and trying new recipes with my family. We also enjoy trying new attractions and taking our sons to the Zoo, parks, and events around the Columbus area.